Join the Open Streets Hamilton team!  
Click here to submit your volunteer application form for our June 2013 event!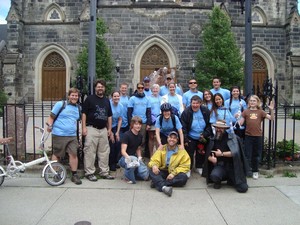 Join us as a volunteer at Open Streets Hamilton!
Open Streets Hamilton is a community-based partnership dedicated to promoting active, healthy, and inclusive lifestyles by temporarily transforming streets into a shared space for everyone to experience.
Open Streets Hamilton events include up to 2 kilometers of car-free roads for pedestrians, cyclists, scooters, skateboards, wheelchairs, and more! Open Streets Hamilton and its sponsors are engaging even more of Hamilton each year through free, family-friendly activity!
Open Streets Hamilton is now in the midst of planning its fourth consecutive year as a series of events promoting active transportation, healthy living, and bringing Hamilton's communities together.
The Open Streets Hamilton Event Planning Committee is now seeking help in the following areas:
Looking for help with:
Programming & Activities – contacting groups who can bring programming to the street
send initial email – follow up by phone
get application completed
get additional information once committee has approved their programming
work with Volunteers & Fundraising team to ensure enough support for programming providers
Street Logistics – street layout/design
come up with design for the street/programming
work with Programming & Activities team to pick good spots
ensure all amenities/services are booked and well placed

water
EMS/First Aid
Toilets (must be accessible)
Waste
Volunteers & Fundraising – coordinating volunteers and fundraising efforts
work with Communications & Outreach team to ensure enough support for upcoming promotional events
coordinate fundraising efforts (t-shirt sales, coffee sales, button sales, other fundraising ideas)
review volunteer training (add sections if needed) – Volunteer Training Session May 30th
schedule and manage volunteers on event day
Communications & Outreach
create outreach materials needed (print, online, signage, etc.) for all groups
book tables/promotional opportunities at events/locations across the city (and outside Hamilton)
write and/or review external communications for all teams
manage outreach along event route and at promotional events
Media & Sponsorship

manage social media, website updates, develop marketing plan
write and/or review press releases, send out to media list
work with Communications & Outreach team to ensure sponsorship logos are included where appropriate on all materials
ensure all aspects of sponsorship package are delivered
schedule and manage media on event day

Reporting & Evaluation

develop list of metrics to use as evaluation for event (attendance, number of programming providers, etc)
work with Media & Sponsorship team to ensure post-event sponsor reports are produced
conduct evaluation at event

Administration & Finances

develop and update databases (contacts, confirmed programming, confirmed volunteers, etc.)
write and circulate meeting minutes
keep updated records of fundraising results (donations/sponsorships received, pending, product remaining etc.)
track expenses (paid, pending, balance available/owing)
work with Street & Logistics team to ensure all necessary permits are filed on time
For more information, please visit our website at www.openstreetshamilton.ca or call 905-481-0809 to leave a message for one of our volunteers!
Open Streets Hamilton: Make the Streets your Playground.