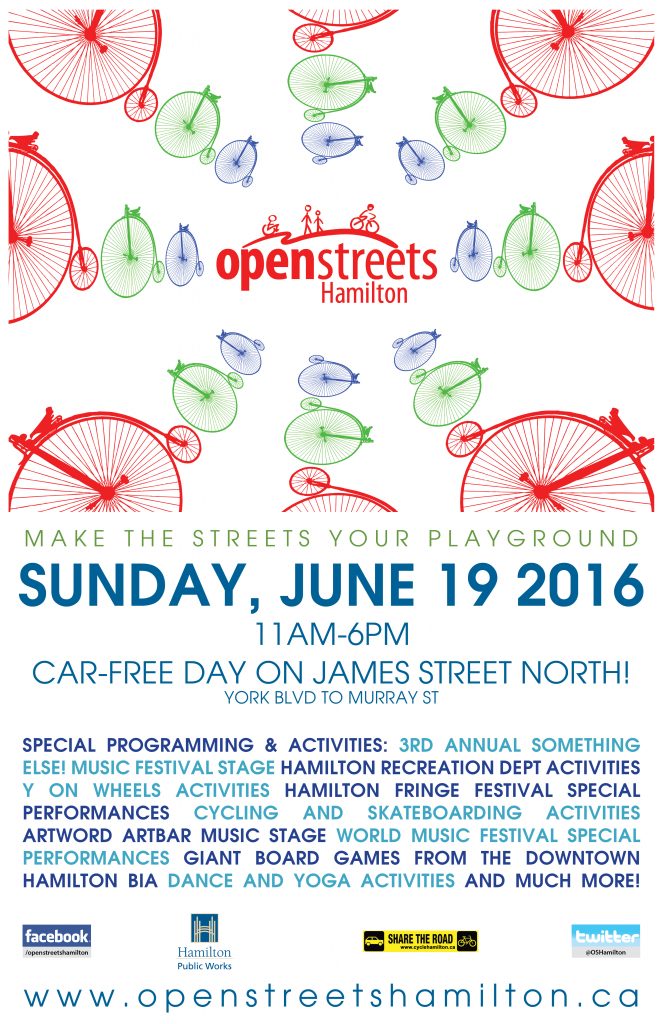 Open Streets Hamilton is a community-based partnership dedicated to promoting active, healthy and inclusive lifestyles by temporarily transforming streets into a shared space for everyone to experience. Sunday, June 19th 2016 will mark our 10th car-free Sunday in Hamilton since June 2010!
Special programming and activities includes:
Vendors & activities & map online now!

Open Streets Hamilton is part of a network of events taking place all over the world to re-purpose streets for fun, active, and creative activities! Click here to see more about events like this across North America!  Open Streets Hamilton features unique programming such as:
Active Transportation (Walking, Cycling, Rollerblading, Skateboarding, etc)
Healthy Communities (Nutrition, Active Living, Health & Wellness, Sports & Recreation, etc)
Sustainable Economy (Local Sustainable Businesses & Organizations:  Food, Services, Arts, Local Products)
And more!
By closing the road to motorized vehicles, Open Streets Hamilton "opens" the street to pedestrians, cyclists and all forms of active transportation (including wheelchairs) to walk, ride or roll down James Street North!  Along the route, we work with local organizations to provide fun, active, healthy, family-based activities to engage passers-by as they travel down the middle of the street!
By connecting communities through active transportation, we open up opportunities for collaboration, support, sharing, and communication that are sometimes missed when we drive through a community in a car.  Taking a day to come out into the street together to celebrate your community helps to build connections that last all year long!  Click here to read some of the things people have told us about why they come to Open Streets Hamilton every year!
For more information email: coordinator@openstreetshamilton.ca