Open Streets Hamilton would like to thank you for joining us at our last event, celebrating two fantastic open streets locations on Sunday, September 23rd, 2012:

James Street North, 10am – 5pm
AND
McMaster University campus, 11am – 4pm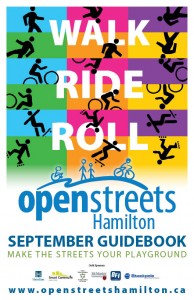 Congratulations to all who participated in our sixth event on September 23rd, 2012!
Months later, we continue to hear lots of great feedback about our first multi-location Open Streets Hamilton event!  With estimates of 12,000-15,000 people attending one or both locations, we're happy to say Hamilton's Downtown and Westdale neighbourhoods were connected by community car-free fun!
Here are some statistics about our exhibitors:
(check out our September Guidebook to see who was on the street by clicking the image on the right!)
Over 100 downtown area organizations, businesses, artists and musicians came out to James Street North to exhibit their wares!
Over 25% of exhibitors identified their organization's goals as related to health and physical activity
Roughly half of those who set up on the street brought some form of arts & culture to the event
One in four of 2012's exhibitors were promoting environmental sustainability & awareness, including active & alternative transportation
Many neighbourhood community organizations and small local businesses participated for the first time!
From the feedback we received, we heard that:
50% of those surveyed WALKED to the event, and 1 in 5 RODE THEIR BIKE!
Almost 85% of attendees surveyed used one or more forms of active and public transportation (walking, cycling, blading, wheelchair, transit) to access the Open Streets!
Over 50% of those surveyed heard about the event through our social media campaign, and another (almost) 30% saw our posters!
More than 35% of those who attended visited James Street North or BOTH locations!
Shuttle buses between the events were steadily busy all day long, taking students and residents from Westdale to James Street North, and visa versa!  By one report, residents from 24 different apartments in a downtown building visited McMaster's campus!
We also received lots of suggestions for next year's events, including:
More healthy food options
More free activities for families and kids
More local artsits and musicians
More publicity
AND More Open Streets!
Overall, people who attended the event told us that they support the various messages of Open Streets Hamilton, in the following order:
Healthy Living
Sustainability
Active Transportation
Community
So, what's next?  There's always lots to do!  Open Streets Hamilton Steering Committee members, staff, and volunteers will be busy over the fall and winter months getting the word out about active transportation issues and planning for more great events across the city in 2013!  We are always looking for help in the following areas:
Outreach & Promotions
Fundraising
Media Relations
Corporate Sponsorship
DONATIONS – We are now even easier to support!  You can now donate on our website, at wwwopenstreetshamilton.ca/donate, and help support all our future events and programming!   And of course, you can always send us a donation by cheque to:
22 Wilson Street, Suite 4
Hamilton, ON L8R 1C5
(PLEASE NOTE: this address is a mailing address only, cheques can be made out to "Open Streets Hamilton", please no cash)
Dontaion receipts will be issued to all donors as an annual receipt – let us know if require anything other than a digital file!For more info about our upcoming events, follow us on 
Facebook
 and 
Twitter
, or email us at 
info@openstreetsh
amilton.ca
.  You can also join our newsletter by visiting our website at 
www.openstreetshamilton.ca
 and scrolling to the bottom right-hand side of our homepage!
Thank you again for all your continued support in 2012!  Looking forward to seeing all of you on the street in 2013!
Sunil Angrish
Open Streets Hamilton
Founding Director
Chair, Event Planning Committee
905-481-0809
**Open Streets Hamilton is looking forward to its fourth consecutive year hosting a series of car-free events promoting active transportation, healthy living, and bringing Hamilton's communities together.